Tourism is a thriving business in Scotland and it has been for a considerable length of time. From pilgrimages to holy sites to hill walking Scotland has something for everyone, this idealised tourist landscape was well established by the 18th century which can be seen continuously in texts from around 1725 to the present chronicling peoples Scottish adventures. For as long as people have been travelling, they have had the urge to bring back a memento of their travels in some shape or form. Overtime these items have changed style due to changing tastes and cultures but their popularity remains high.
The Chapter House Museum and Dunkeld Community Archive contains a collection of such artefacts, for example there is a collection of Mauchline wear which is a style of souvenir which originated in the Ayrshire town of Mauchline (more commonly associated with the Scottish bard, Robert Burns) in the 19th century. Mauchline wear consists of  pale coloured wood such as oak or sycamore which is laid thinly atop things such as photo albums or finely processed into ink wells or other similar objects. These fine wooden objects were initially had painted with an image relating to the area in which they'd be sold and then covered in several layers of high shine varnish in order to preserve the woodwork and the image on the item. As machinery progressed and evolved during the industrial revolution, the ability to create transfers of the locations required were used instead of hand painted images. This meant that the workmanship no longer had to be as expert and larger quantities could be produced and more patterns would be available. Over the time the production of these items moved to other areas within Scotland, the items could be reproduced in their respective areas and use local products such as Dunkeld and Birnam using "Birnam Wood" or wood from the "Atholl Plantation" which added an element of local individuality to the available items. These unique sources are commonly inscribed upon the back of the item alongside the producers of the item meaning that origins can be clearly traced to individual production companies.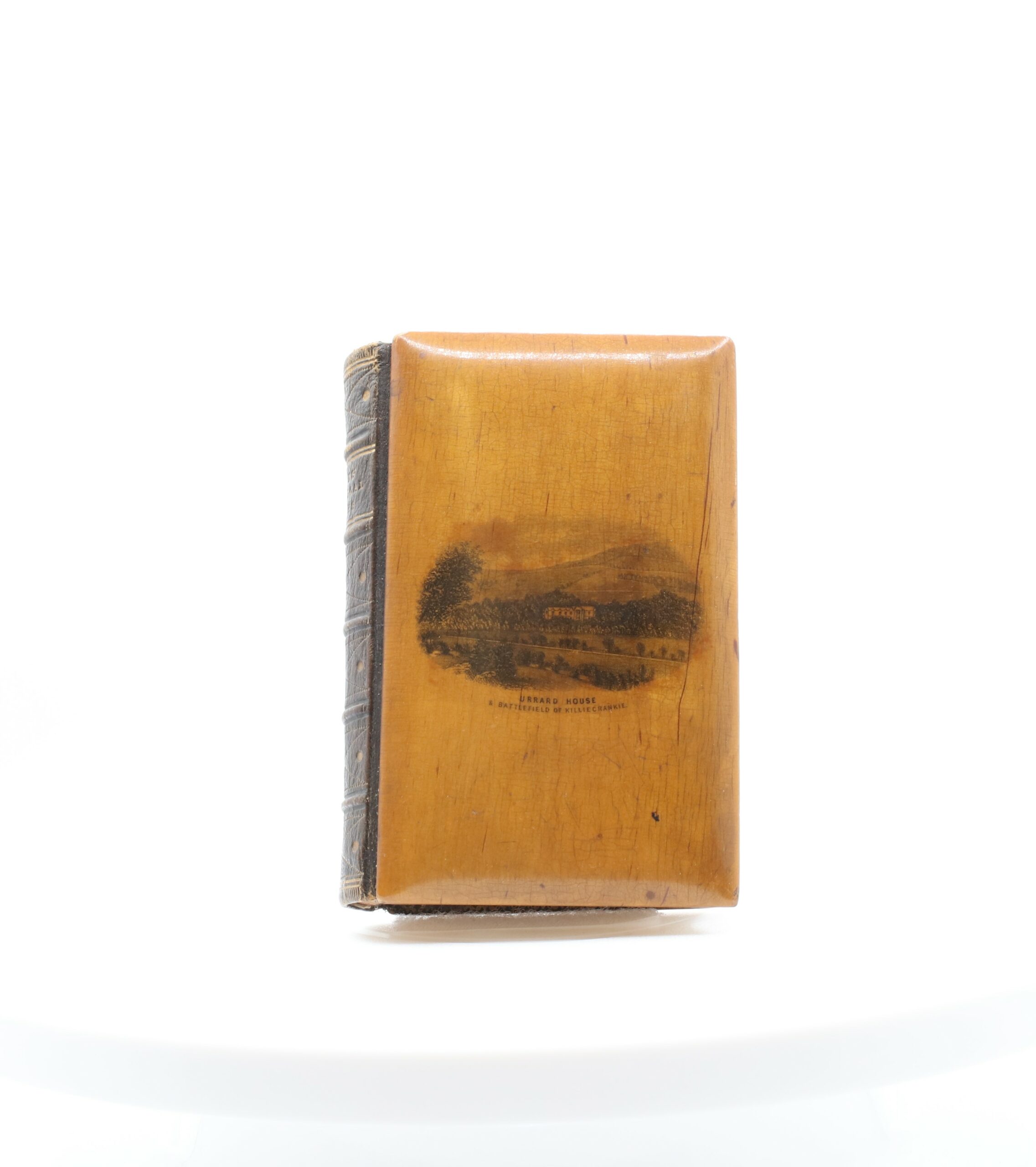 A Mauchline ware book of Burns' Poetry from mid to late 19th century. Showing Urrad House, made from "Wood from the mound where Dundee fell" by Anderson Book seller Dunkeld. 
Mauchline ware ink well with image of Dunkeld town including Telford's Bridge. Inscription on back reads "From the Athole Plantations, Dunkeld. Can ye by Athole, Tad wi' the Philibeg, Down by the Tummel, or banks o' the Garry, Saw ye the lads wi their Bonnets an white cockades, leaving their Mountains to follow Prince Charlie."
One bible dated to 1881 from the small hand written dedication inside the front cover, reads;
To
Thomas Borrie   
On his eighth birthday
From his friend
David Borrie
June 7th 1881.
I love those that love me, and
Those that seeks me early
Shall find me. prov VIII
Thy word is a lamp to my
Feet and a light to my path
Psalm CXIX-105
Suffer thy little children to
Come unto and forbid them
Not: for such is the kingdom of God. Mark X.14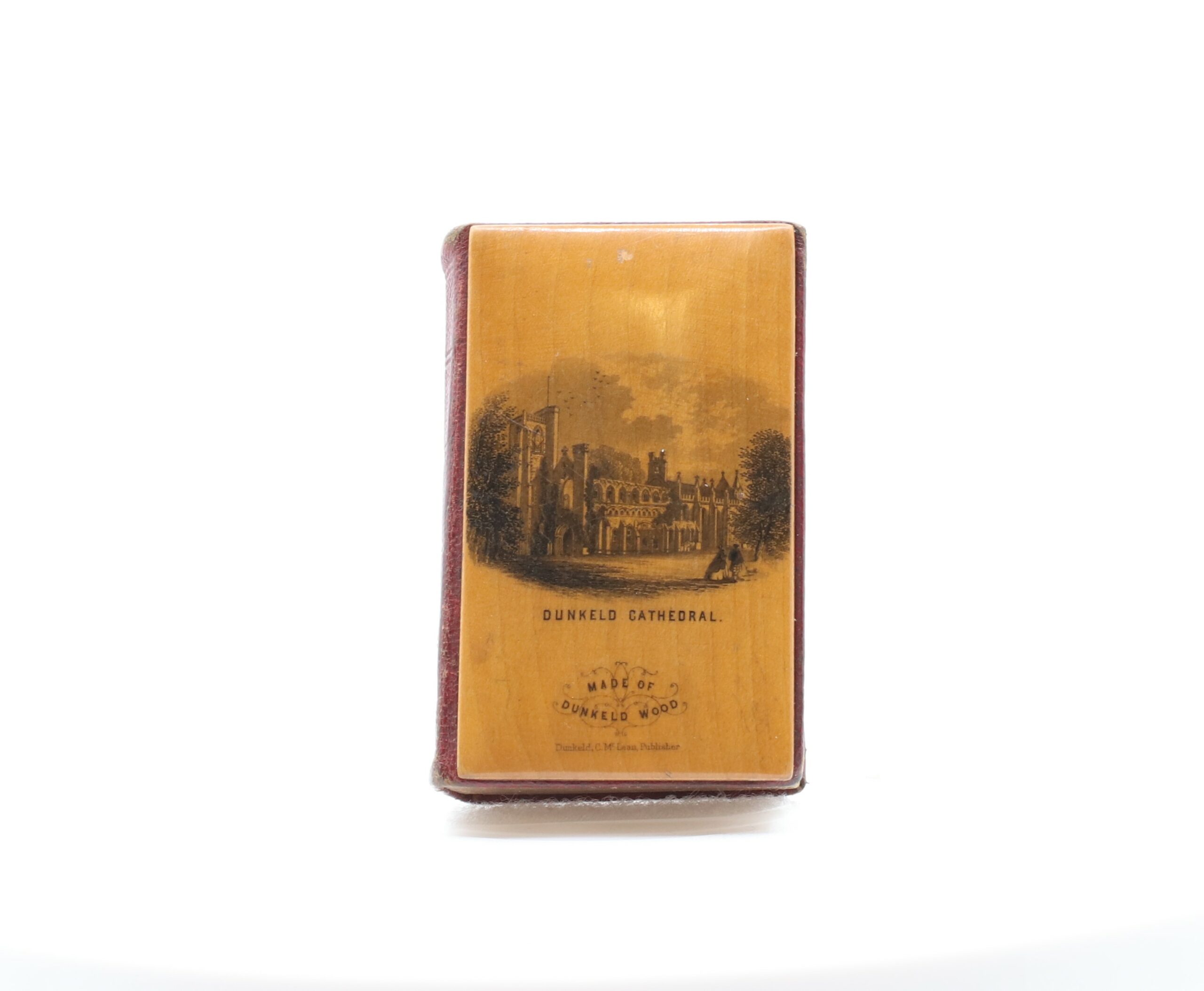 The Bible belonging to Thomas Borrie, made "Of Dunkeld Wood". 
This item is not a souvenir in its truest tourist form but instead is a gift which was quite probably purchased from a souvenir shop or local business which was intending the item to appeal to tourists.
The archive is in possession of several items of Mauchline ware which directly relate to the Dunkeld area, one of these items is a large and rather impressive Mauchline ware photograph album owned by Major George Mitchell Richmond who was born in 1883 and died 1957. Upon his death and funeral service in Dunkeld Cathedral his wife donated the album to the Cathedral where in 1997 it was handed to the Friends of the Chapter House Museum and accessioned into the Dunkeld Community Archive.  The album appears to be an in-depth look through his travels via a collection of photographs purchased from various photographers across the globe as photography was still inaccessible for the masses. Photographs work as a souvenir in their own way as they can give a visual reminder of the locations which have been visited, this beautiful album shows just some of the travels which were undertaken by a man with a very exciting life.  Even in the present day, photographs are one of the primary ways people record their travels as they are now quick and easy method to bring home a memento of holidays and adventures.  
Major George Mitchell Richmond was born in Toorak, Melbourne Australia in 1883 but was educated at Harrow School in England and enlisted into the Black Watch during the Boer war at the age of 18. Post service, he returned to Australia where he continued to work as a pastoralist on his father's sheep and stud farms, later founding his own. In 1914 at the outbreak of the first world war, George Richmond travelled back from Australia to the UK to rejoin the Black Watch to fight in the war. He was injured twice during the first world war but survived and married Miss Grizel Wilson in 1918, they then moved to Kincairney, his mother's home, in 1935 where they spent the rest of their lives with occasional trips to Australia. Major George Mitchell Richmond died at sea in 1957 when returning home from Australia to Scotland. We have digitised the album to allow an insight into some of his travels across the world.    When digitising the album we discovered 3 individual Caricatures had been stored against the back cover and have been beautifully preserved! The caricatures show Major George Richmond and potentially his wife and daughter or friend in Brussels in 1933, it has allowed us to see what Major Richmond looked like and confirm who he was through written records and a lovely portrait photograph.
Above is Major Richmond's photo album, scroll through to see the full album!
Major George Richmond and companions caricatures. 1933.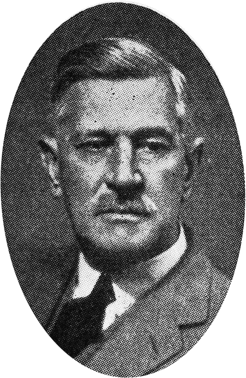 Real photograph of Major Richmond, date unknown. 
Similarly to Mauchline wear, Doulton Lambeth pottery was produced from 1815 to the early twentieth century near London. The company had a brief period between its initial production of salt glazed sewage pipes and later production of highly ornate decorative pottery in which it produced salt glazed tourist type potteries, one such item is available to be seen as a 3D image as part of our exhibition. The characteristic salt glazed flagon has also been emblazoned with an image of Dunkeld Cathedral, seemingly produced in much the same way as the Mauchline ware as they seem to have been painted onto the items or have been added via a transfer before the kiln and glazing process. These flagons must have been produced in a fairy large number to be sold in Dunkeld as the materials were being produced London and the items had travelled a great distance to be sold as a souvenir in the Dunkeld and Birnam area as a good old fashioned tourist tat.  There were other more local factories which produced pottery but, for some reason the pottery was not produced there but instead imported up from England, perhaps the vendor got a better deal with a distant brand?
Doulton Lambeth Salt ware flagon. Date around 1860. 
As time progressed tourists changed, as did their habits and interests. A small tourist booklet from 1931 shows that a select group of these tourists had stopped traveling by train and were now able to drive to Dunkeld and Birnam and also explore the gorgeous surrounding areas. As time progressed the types of souvenirs available changed, by the 1930 Mauchline ware had fallen out of favour as items such as ornate silver spoons with engravings or inlays from holiday locations became more en vogue. Many people ended up with collections of silver spoons! These are no longer quite as popular as a souvenir as tastes yet again changed, items such as fridge magnets have become the new popular collectibles for the masses as they are usually very affordable and in the style of all previous trinkets can absolutely be personalised to suit the towns and countries which they are representing.
Above is the 1931 travel guide for Birnam and Dunkeld.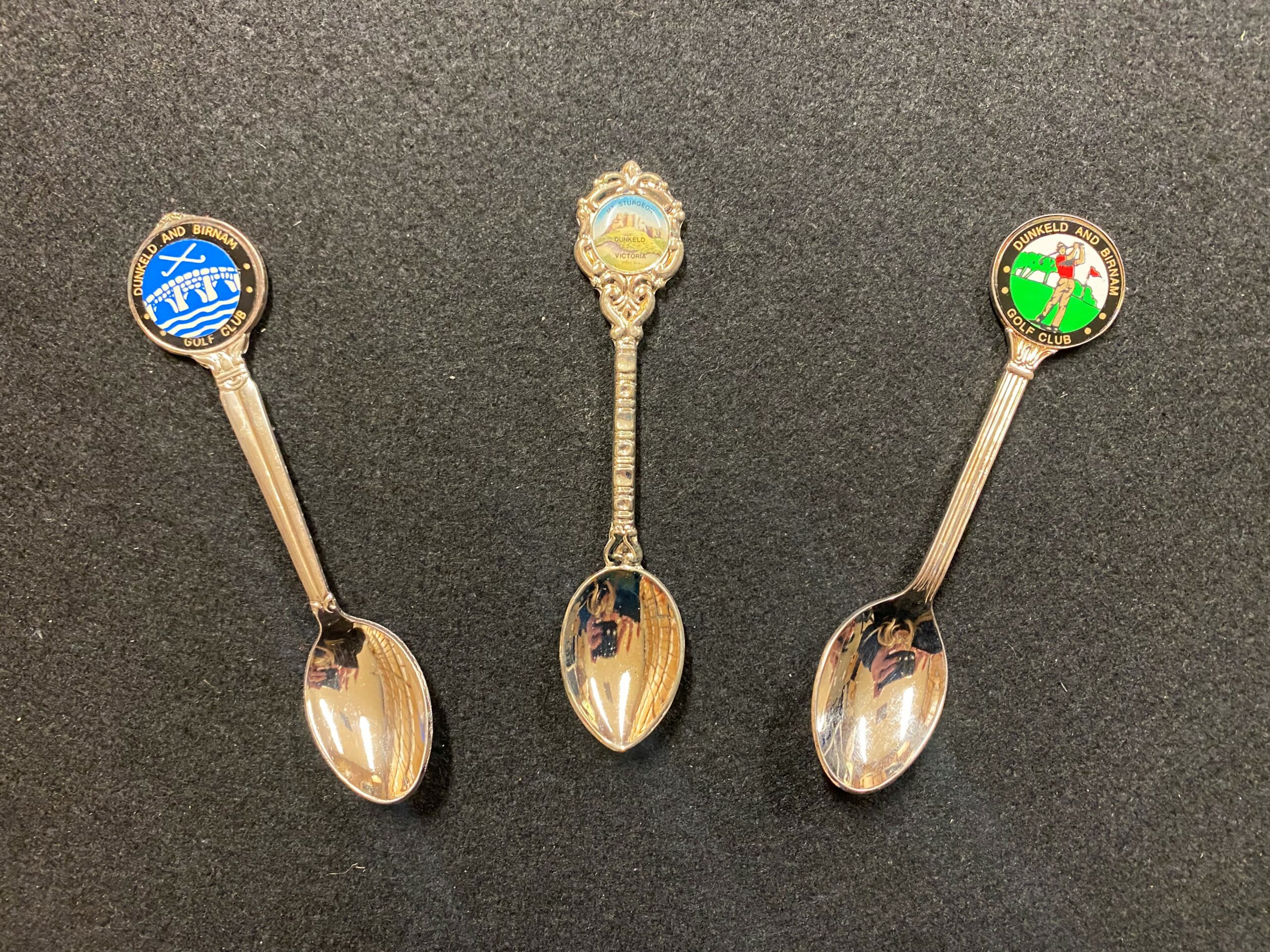 Silver Spoons from Dunkeld and Birnam golf club and Dunkeld Australia. 
Nowadays lots of souvenir shops are looked at as being tat shops with mass produced nonsense to satiate the tourist need for a trinket. Changing times and technology mean that now every tourist can snap a picture of their travels or grab a memento of their travels wherever they go. A previous visitor to our Archives left us a gift of a tartan clad teddy which perfectly embodies these changing themes in souvenirs, which as time goes on are bound to change again!