Remembrace Day – stories of Soldiers from our Collection
The first armistice day or Remembrance Day as we now know it was the 11th of November 1918. This was an agreement for peace that brought an end to the First World War (which was known as the great war at this time).  The ceasefire began at 11am  which is why a two minute silence is now held on the 11th of November at 11am to remember those soldiers who lost their lives in WW1.
A Brief History of the Scottish Horse
Dunekld Community Archive holds the regimental Archive of the Scottish horse who were a locally based regiment created during the second Boer War in 1900 in South Africa.  Originally a yeomary regiment (voluntary cavalry) led by John Stewart-Murray, 8th Duke of Atholl – at this time he was just known as the Marquess of Tullibardine.  Originally consisting of two mounted infantary units one made up of Scotsmen living in South Africa and Scotsmen from home and the other, made up of Scotsmen from home and Scotsmen living in Australia (mainly Victoria).
This Regiment was disbanded after the War and in 1903 was raised again in Scotland as a Territorial (or part-time) Army cavalry unit, forming  2 regiments; the First based in Dunkeld  and Perthshire and the Second in Aberdeen and the North East.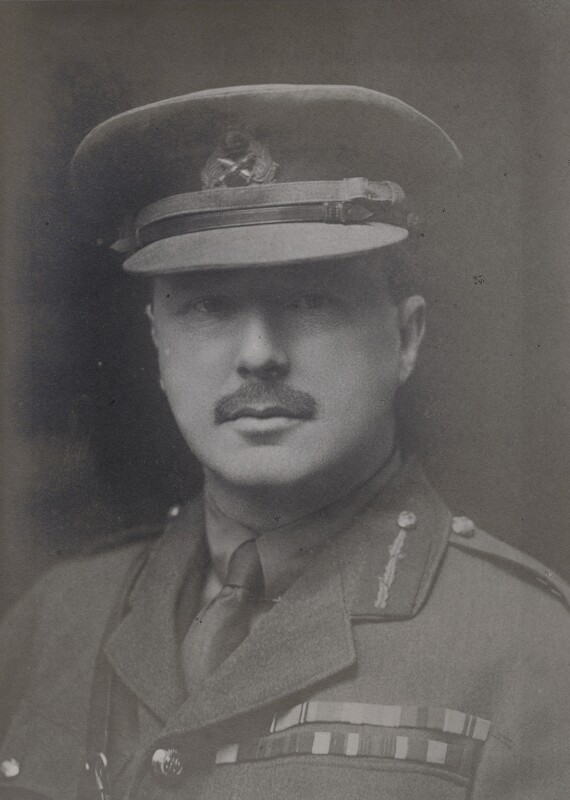 On the outbreak of the First World War these two regiments were mobilised and recruiting was so brisk that a third regiment was quickly formed, followed by each of the 3 regiments forming a second-line and then a third-line regiment. The 3 third-line regiments remained in the Dunkeld area as training and reinforcement units. The remaining six formed the 1st and 2nd Scottish Horse Brigades and moved to England.
In 1915 the 1st Brigade sailed for Egypt but on the way was diverted to Gallipoli where it fought as Infantry from September to December. It then moved to Egypt. In September 1916 part of the Brigade was converted to Infantry and formed the 13th (Scottish Horse) Battalion of The Black Watch (the rest of the Brigade helped to form The 10th Battalion of the Cameron Highlanders). From Egypt the 13th Black Watch and the 10th Camerons moved to Salonika and fought there until June 1918. The 13th Black Watch moved to France and took part in the final advance in late 1918. The 2ND Brigade stayed in England, moving later to Fife and, in 1918, to Ireland.
After the War the Scottish Horse reformed as a Territorial Army cavalry unit based in Dunkeld with squadrons in Aberdeen and in Perthshire. In the Second World War the Regiment was converted into 2 artillery units, the 79th and 80th (Scottish Horse) Medium Regiments, Royal Artillery. Both Regiments trained in the United Kingdom initially; the 79th moved to Normandy in 1944 and fought in France, Holland and Germany and the 80th moved to North Africa in February 1943 and fought in Sicily and Italy – including at Anzio.
After the Second World War the Regiment again reformed as a Territorial Army cavalry unit based in Dunkeld until it was amalgamated with the Fife and Forfar Yeomanry in 1956. A successor unit, C Squadron of the Scottish and North Irish Horse, is based in Cupar, Fife.
Trench art was a common piece of memorabilia brought home by soldiers who had served in the trenches or by visitors to battlefield sites post war. This piece of trench art depicting a helmet with "Ypres" A location that was a site of many battles is actually an ink well!
Stories and items from our collection
There are many Scottish horse soldiers recorded within our regimental archive. Lots of their stories can be told by artefacts and documents and help us to remember those who may have otherwise been forgotten. Kind donations of artefacts relating to specific Scottish Horse soldiers have also allowed us to create tangible connections to these men through archival documents and research.
This medallion was sent to the next of kin for Alexander Stewart born in 1892 in Dunkeld.  Originally a member of the Scottish Horse regiment, enlisting in September 1914, he later transferred to the Royal Army Medical Corps. Through our records we can see his promotions prior to his transfer. Alexander Stewart was promoted to lance Corporal by 1915 and corporal by 1916.
Alexander Stewart sadly died on the 15th of April 1917.  By tracing his memorial we were able to discover more about his passing to expand on the original message sent to his next of kin which state he was "lost at sea".  
Alexander was travelling on the HMT Arcadian from Salonica (now Thessaloniki) when the ship was hit with a singular torpedo which caused it to sink within six minutes. There were around 1300 individuals on board and 279 lives were lost in the sinking. Those who perished have been remembered in the memorial in the British Military cemetery in Mikra, Greece.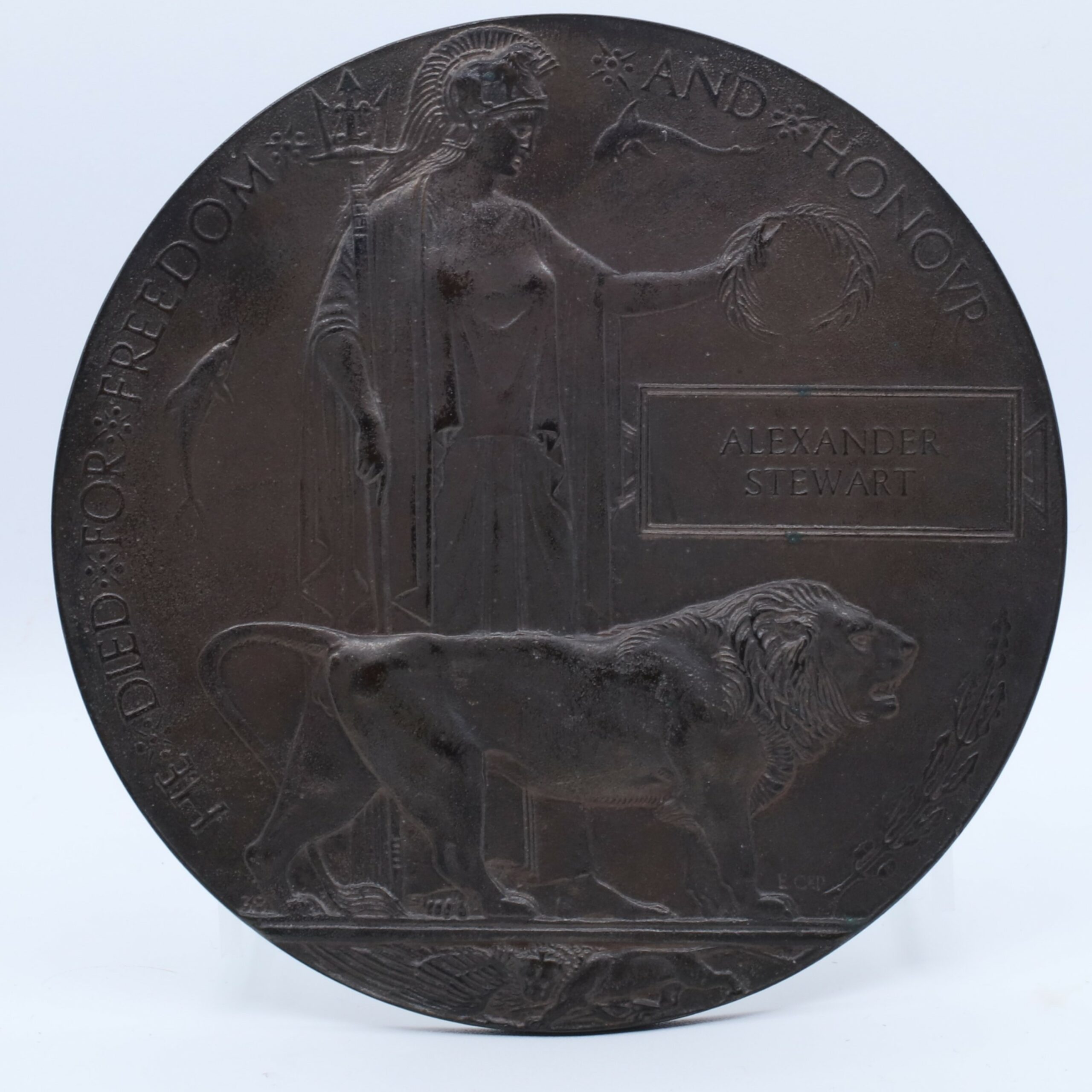 Dead Man's Penny – Alexander Stewart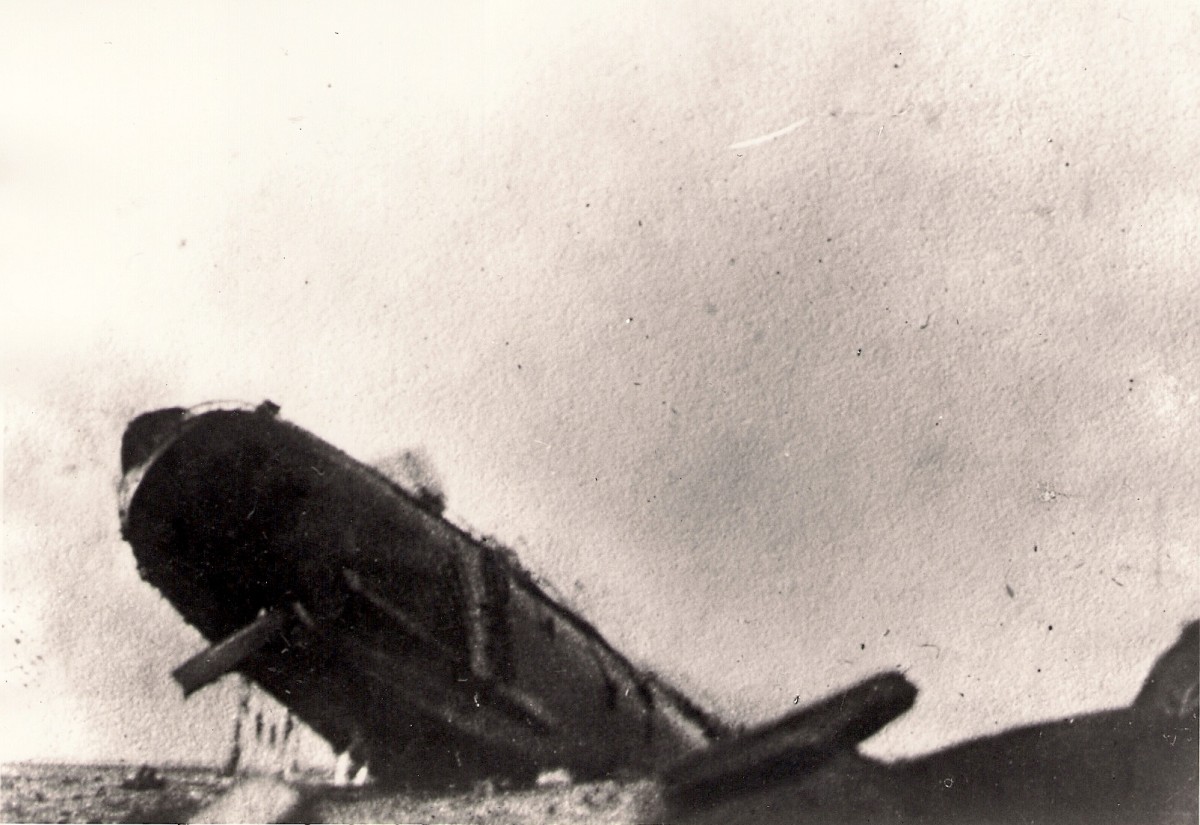 Photograph taken of the HMT Arcadian as she sank.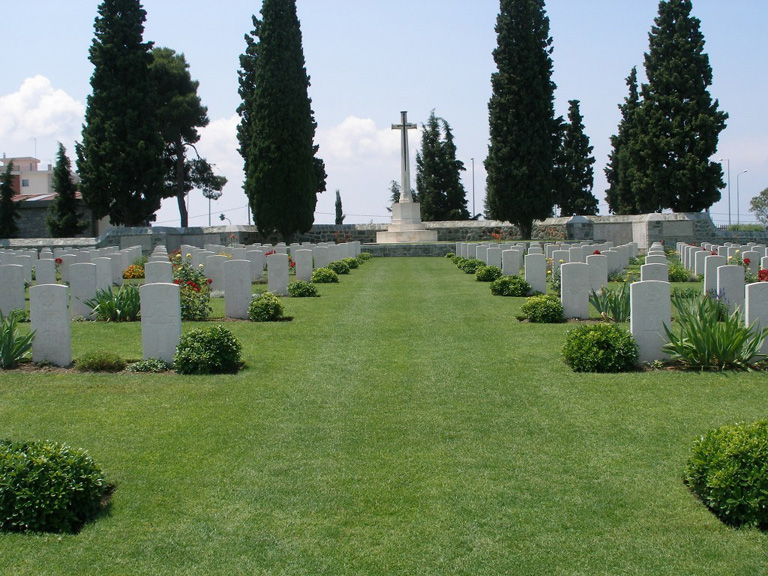 Memorial in Mikra, Greece. 
Known as the "Dead man's penny" due to their resemblance to the reverse of the standard penny at the time in the United Kingdom, these memorial plaques were sent to the next of kin of those who died during the conflict in World War one. 1,355,000 were medallions were issued, made from 450 tons of bronze. No rank was stated, because there was no distinction made between the sacrifice of individuals. The medallions were personalised with each service man or woman's name.
The design features the figure of Britannia facing to her left and holding a laurel wreath in her left hand. In her right hand she is holding a trident. In representation of Britain's sea power there are two dolphins each facing Britannia on her left and right sides. A growling lion is stands in front of Britannia, with another much smaller lion under its feet, biting the German Imperial eagle. The name was cast in raised relief on each plaque.
Around the edge of the plaque are the words "He died for freedom and honour".
In 2019 a small notebook belonging to the revrend Wilfred Callin held within our Scottish Horse Archival Collection was used for research.
The notebook comtained the names of ninety-three Scottish Horse Soldiers who lost their lives in France in October and November 1918.  Next to each soldier was a trench map co-ordinate of where he was initially burried before being exhumed and reburried ina military cemetery.
The names in this list were then checked against the commonwealth war graves comission website. We found that one of these soldiers only had a memorial not a gravestone!
We then got in touch with the wargraves adjudicator at the national army museum and they investigated and gathered further information from exhumation and reburrial papers. They confirmed that plot 111.D.5  in Prospect hill cemetery, Gouy, France which had been marked "Unknown Soldier" since 1919 (the date of reburial) was that of 2nd lieutenant David Bell of the 13th (Scottish Horse) Battalion Black Watch.
In the Scottish Horse war diary on the 7th October 1918, the following was written :-
Masniere-Beaurevoir Line – 2 Officers and 40 Other Ranks sick to hospital.  1 Other Rank rejoined.  Heavy shelling during the day.  Battalion was relieved in front line at 2300 hrs by 4th K.R.R., the Company's withdrawing to West side of wire and digging in about 100 yards West of sunken road.  'A' Company extended its right to Guisancourt Farm – Gouy Road.  Battalion H.Q. remained in same position.  Officers casualties killed 2nd Lieutenant David Bell.  Wounded Lieutenant C Kinloch, 2nd Lieutenant W Forster, Lieutenant A G Heard (M.O.R.C.)  Latter remaining at duty.  Casualties Other Ranks killed 8, wounded 40.  Lieutenant T H Buy appointed Acting Captain & Adjutant and takes over duties from today's date.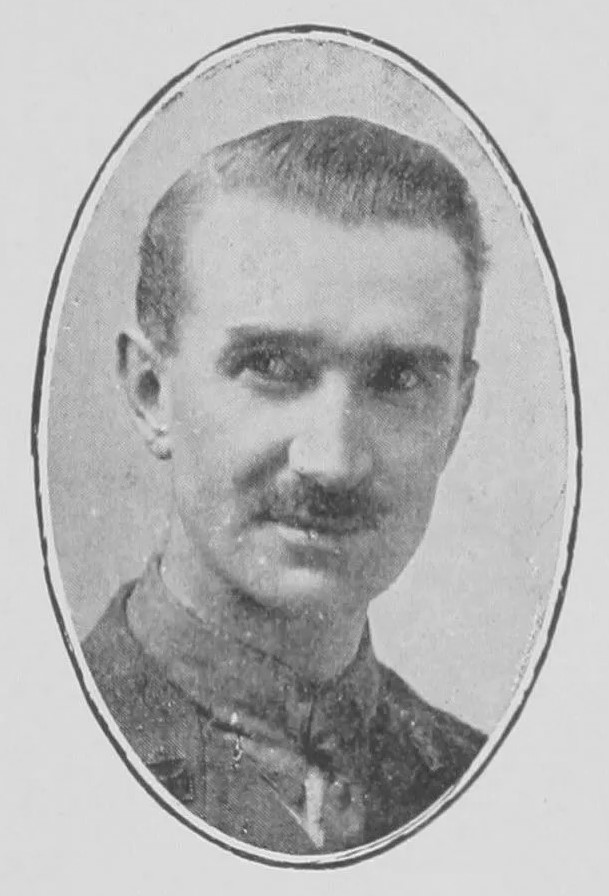 On March 22nd there was a "service of rededication" held in the Prospect Hill Cemetery for 2nd lieutenant David Bell. The ministry of Defence's Joint Casualty and Compassionate centre invited two Representatives from our archive to attend.  Our manager Ruth and one of our trustees Fiona attended, funded by the Basil D'eath trust. This allowed them to pay their respects to David Bell and the six other Scottish Horse soldiers burried in prospect hill.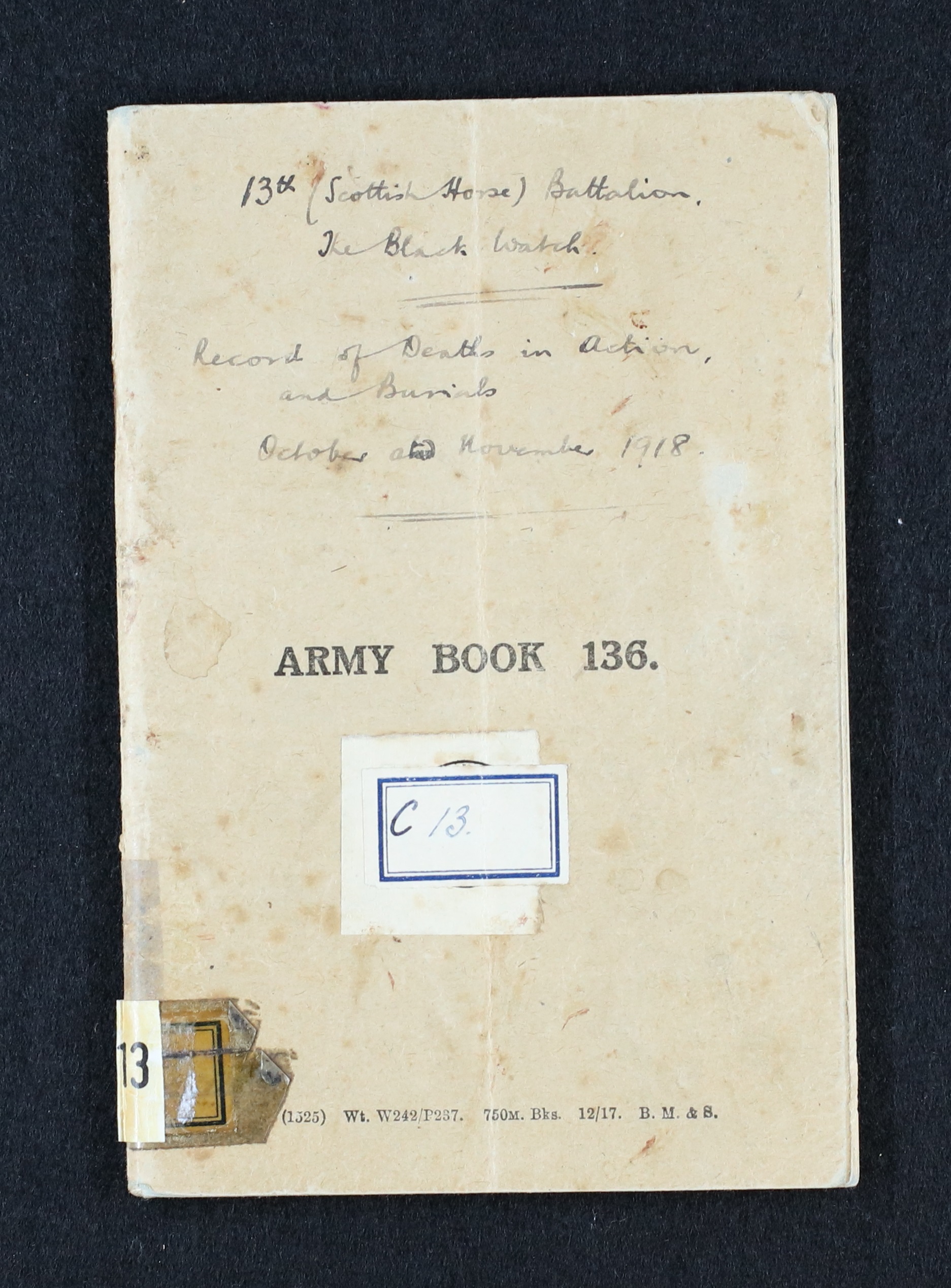 Padre's Notebook – Where David bell's name was found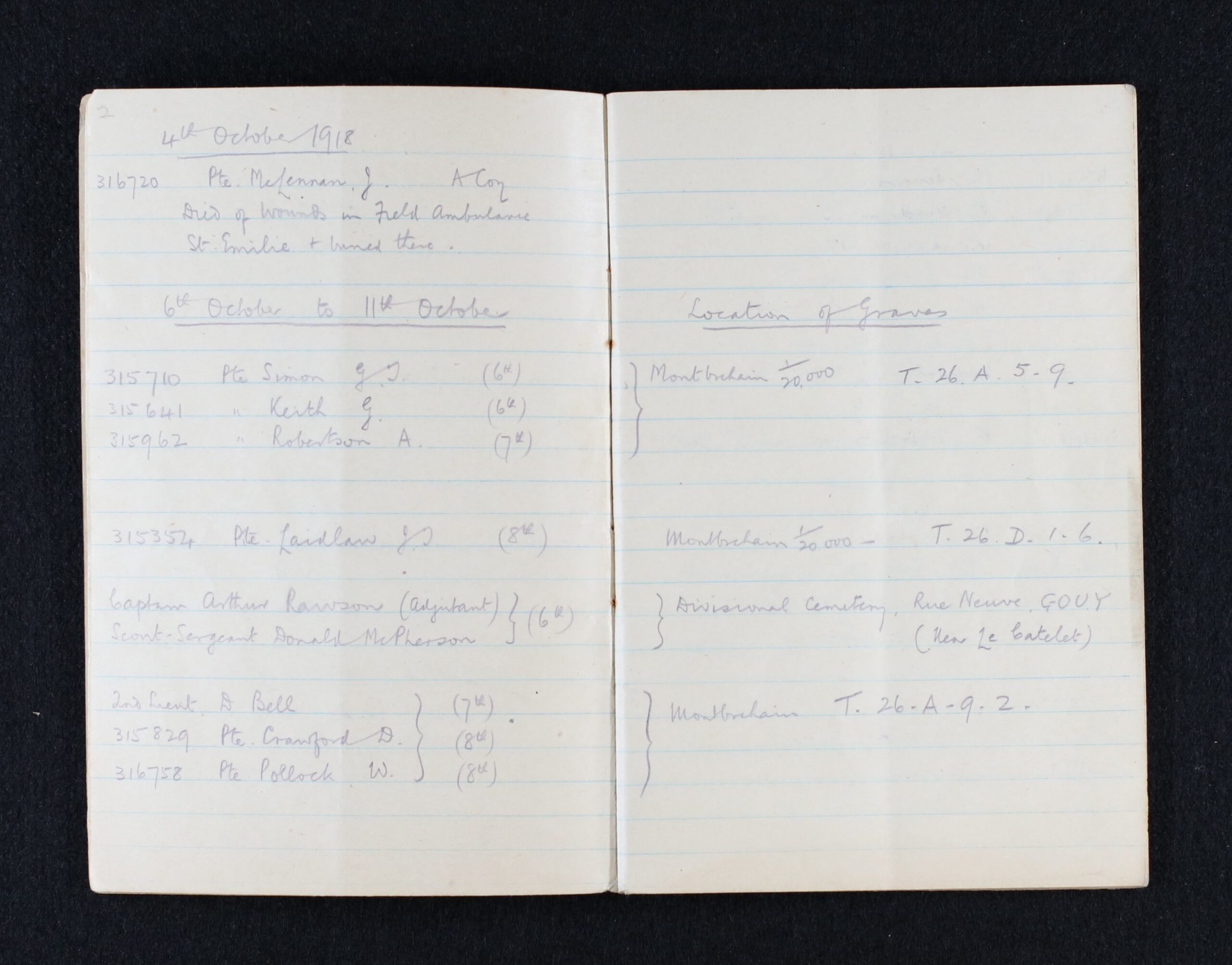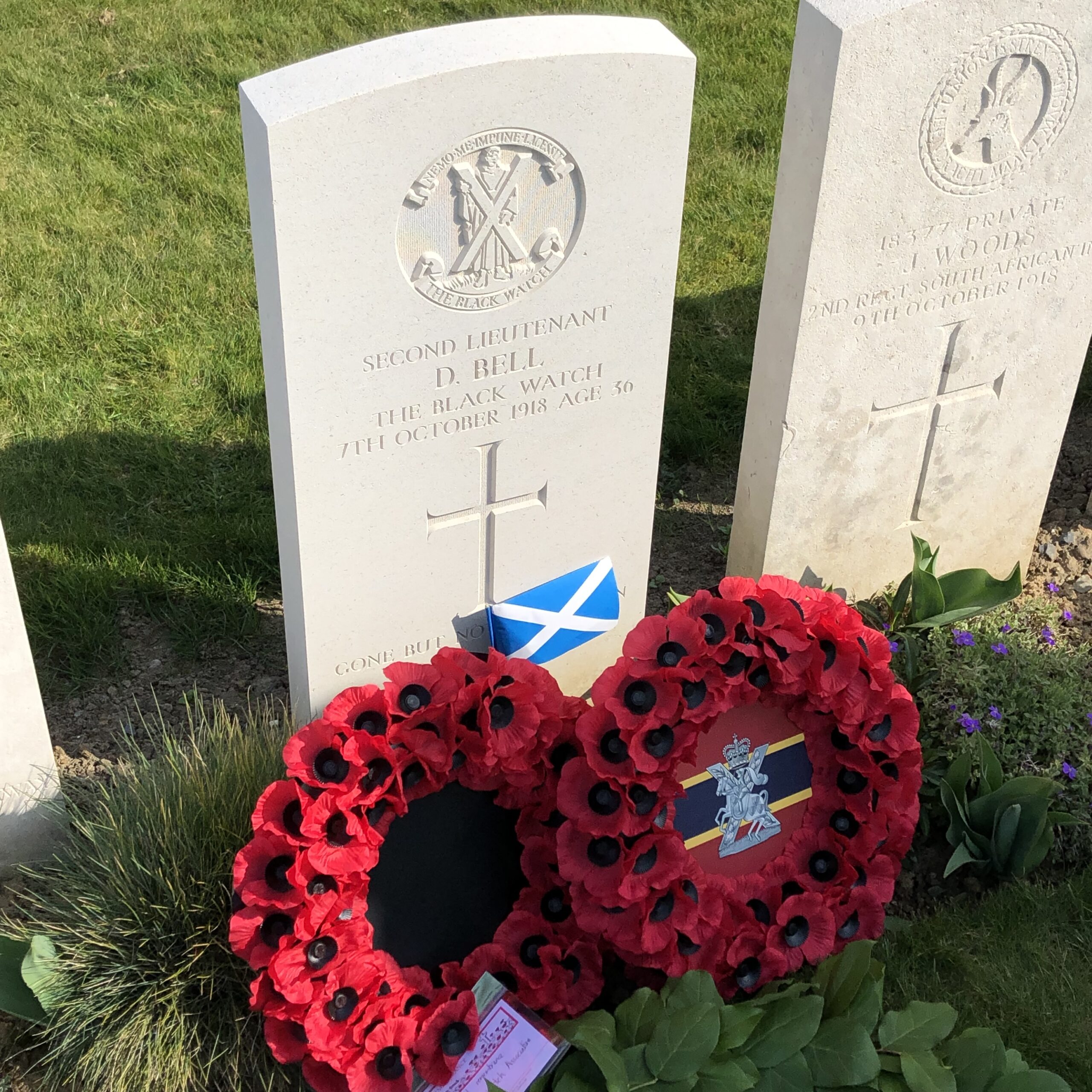 2nd Lieutenant David Bell now has a gravestone so that his name and sacrifice can be remembered.  
Bombardier Bernard Oates was awarded the Military Medal for bravery in Italy in April 1944. 
Bombardier Oates' son donated several items and artefacts relating to his father and his military service which have allowed us to provide an insight into some of his service and where he may have been in the time he served in the military during WWII. 
Here are the records of Bombadier Oates military medal as well as his Scottish Horse Atholl Bonnet!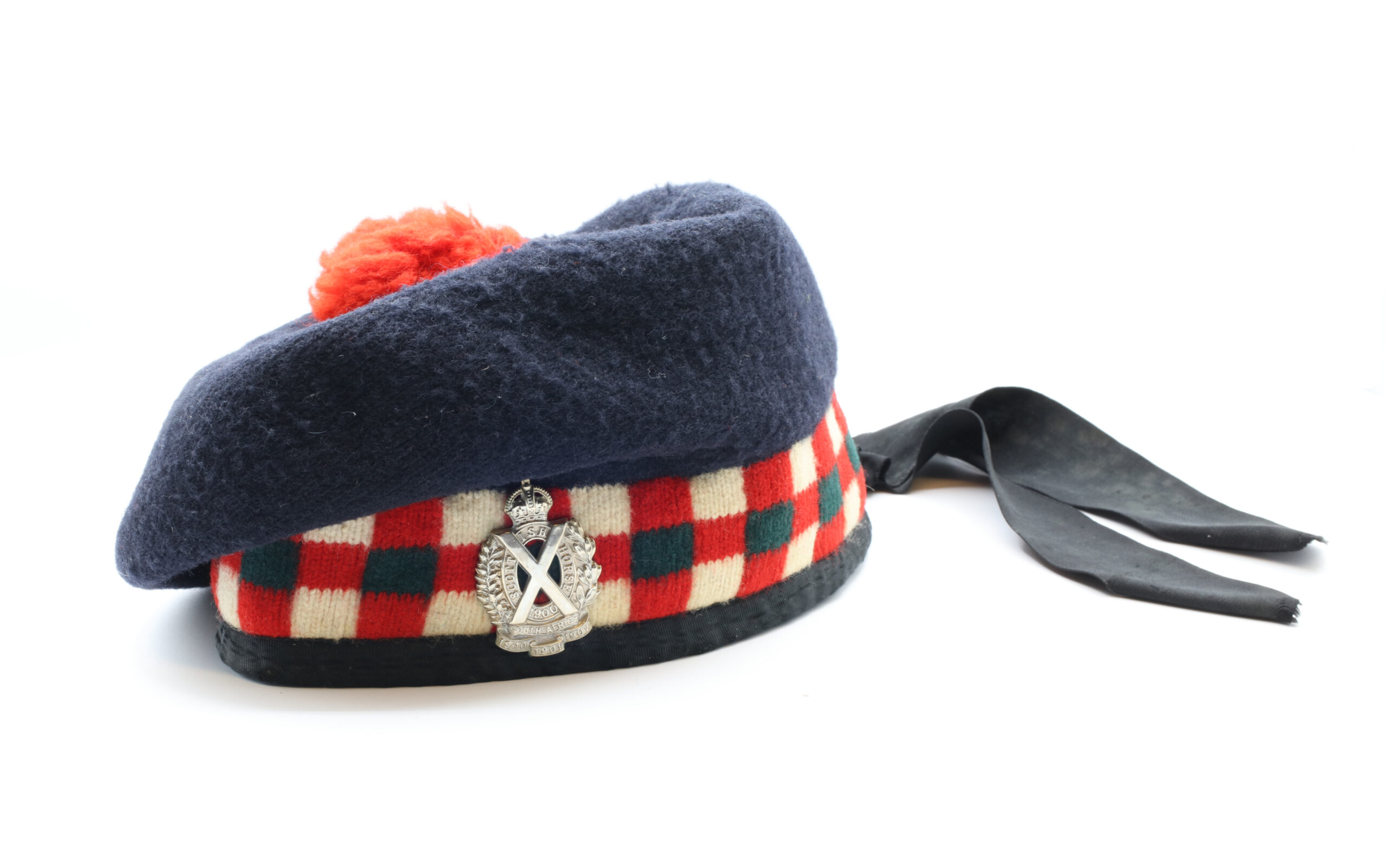 Scottish Horse Bonnet with Cap Badge.
Bombadier Oates' Medal list and accompanying pictures.