The father of Scottish Fiddle Music
Niel Gow was a famous Scottish fiddler and composer of traditional Scottish music. He was born on the 22nd March 1727 in Strathbraan, near Dunkeld. His family moved to Inver when he was an infant. As a young man he began to teach himself to play the fiddle with occasional lessons when he was thirteen -from John Cameron, a local musician. Niel came to the attention of the wider public at the age of eighteen when he won a competition for fiddle playing in Perth. The tale accompanying this win is that the judge was a blind man, John McCraw, who said he'd 'know Gow's playing anywhere' from the way he held his bow. In 1745, the year of the Jacobite uprising, and while James, 2nd Duke of Atholl, was away in London avoiding any pressure to join Bonnie Prince Charlie, his brother William, Marquis of Tullibardine, assumed the rights and privileges of the Dukedom. He provided an entertainment in Dunkeld House for Prince Charlie when he stayed there on his march south to Edinburgh, and among those performing was Niel Gow. By the age of twenty he was generally respected and admired as a fiddle player. He travelled extensively in Scotland, playing in most major towns and cities.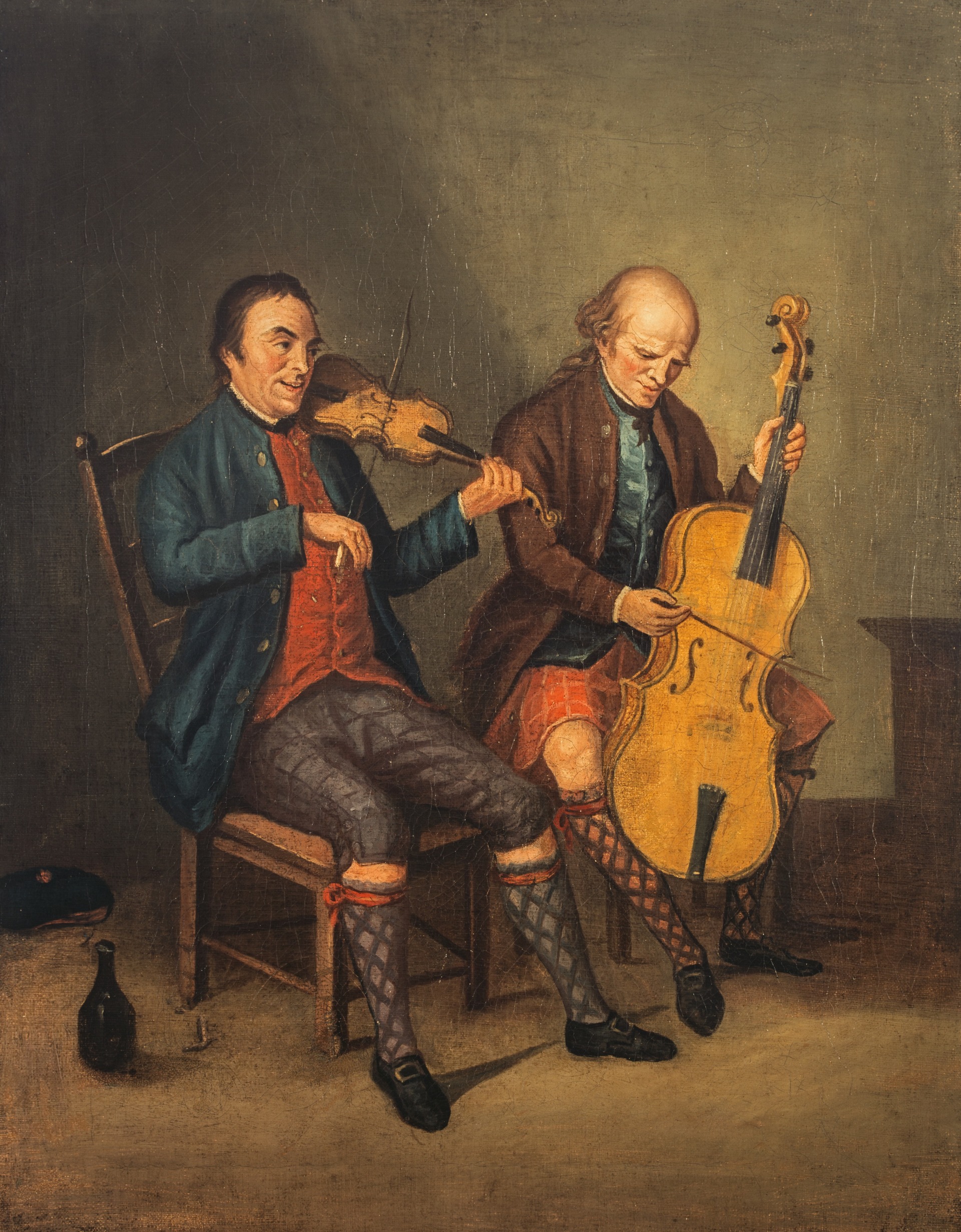 Niel Gow, 1727 – 1807. Violinist and composer (With his brother Donald Gow, fl. c 1780. Cellist) Creative Commons CC by NC, Available from National Galleries of Scotland
Niel's primary income was as a hand loom linen weaver, like most other cottars in Inver village. He cultivated his acre of land, grew vegetables in his kale yard, milked his cows and played his fiddle. The tartan cloth woven by Niel and his family has become synonymous with his identity.   Glenesk Folk Museum hold a piece of this plaid possibly woven by one of the Gow. Glenesk have their own Museum site and information about visiting to see their collection can be found here. Niel was paid an annuity by the Duke and Duchess of Atholl for whom he performed at Dunkeld House and Blair Castle. The Duchess of Atholl was the reason that Niel Gow and Robert Burns met each other. Burns described him as being 'a short, stout-built, honest Highlander figure, with grayish hair on his honest social brow; an interesting face, marking strong sense, kind openheartedness, mixed with unmistrusting simplicity'.  The Duke and Duchess of Gordon also paid patronage to Niel Gow for his fiddle playing.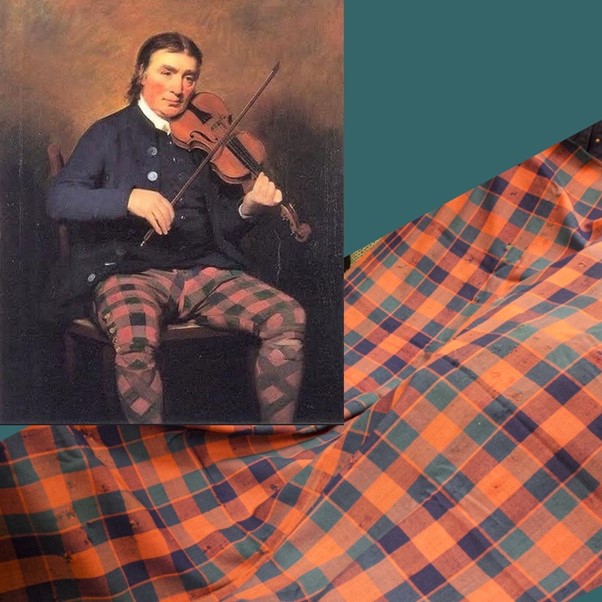 Photograph of the Plaid Fabric from Glenesk Folk Museum that may have been woven by a member of the Gow family. The photograph also contains a copy of Niel Gow's portrait by Sir Henry Raeburn. This photograph has kindly been sent by Glenesk Folk Museum as this artefact is a part of their Collection.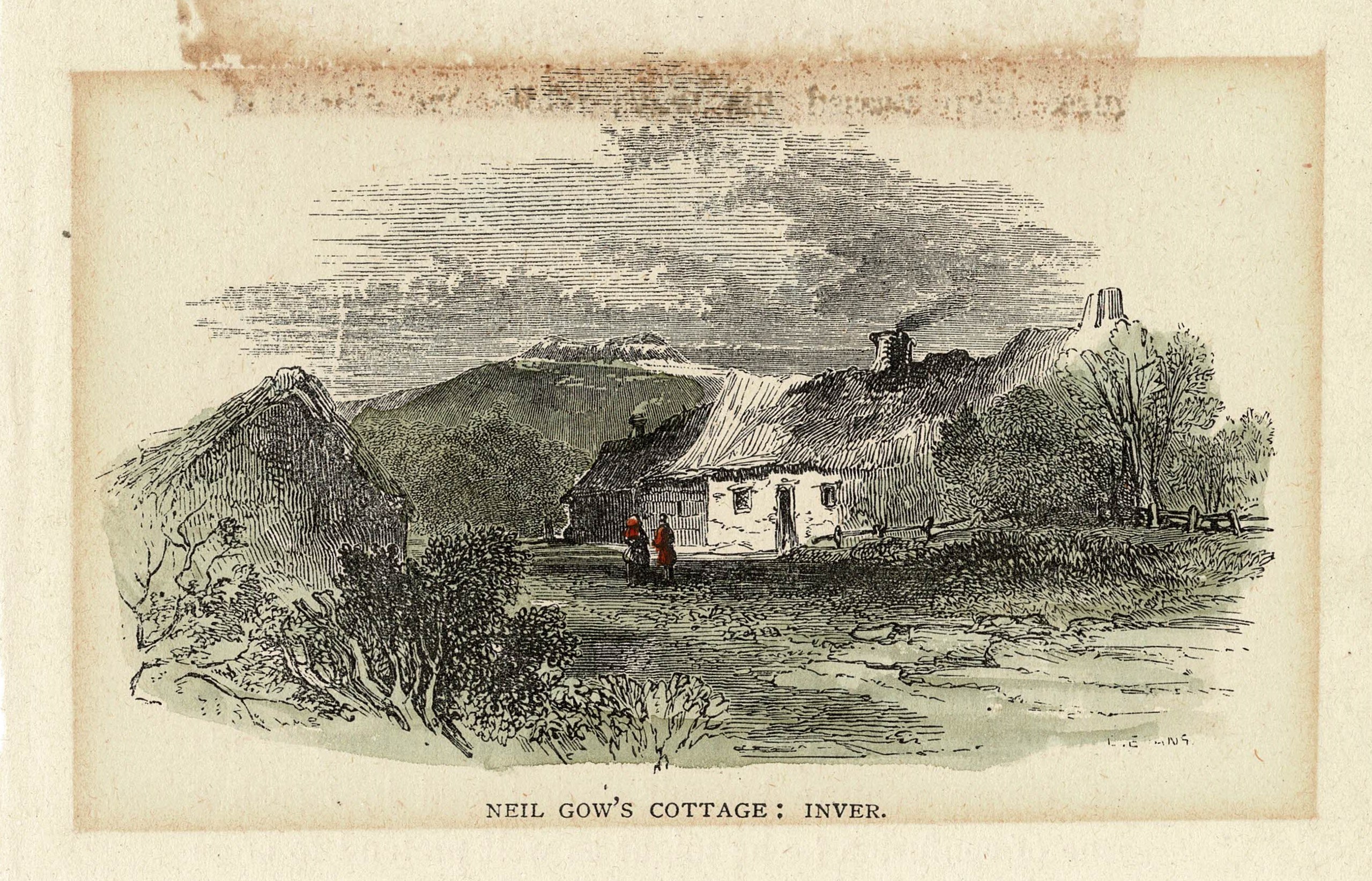 Niel Gow's cottage at Inver. Postcard, Date unknown.
The stone rubble, broom thatched cottage in Inver, which Niel held without tack (annual rent), was to be his home for fifty years. He married Margaret Wiseman in 1750 at the age of twenty-three and they had eight children – five sons and three daughters. The records of this marriage can be seen on the National Records for Scotland website. Margaret sadly died in 1766. Later, on the 17th of June 1766, Niel married his second wife, Margaret Urquhart, who became mother to Niel's eight children giving them a secure home.  She also provided companionship and was a soulmate to Niel. His second wife sadly died in 1805. Niel's elegy to her shows the depth of his emotion regarding their relationship.  In his later years, although no longer able to venture far from home, Niel continued to compose until his last. His final composition was a song called 'Dunkeld Bridge'.
Pete Clark playing "Lament for the death of his second wife" by Niel Gow
There are several remaining artefacts that relate to Niel Gow.  There is an inscribed snuff mill, a snuff box and two of his fiddles (one of which is held by Blair Castle alongside his chair and one of his original portraits). There are several portraits which were painted primarily by Sir Henry Raeburn. The two snuff items differ as one is an ornate snuff box inscribed with "Niel Gow Inver 1780" which directly belonged to Niel Gow. The other, the snuff mill, is instead a gift from his son Nathaniel Gow to a man named Donald MacFarlane. It is inscribed with the message "Nath Gow to Donald Macfarlane in testimony of the friendship that subsided between him and Niel Gow 1808".  This item is currently on loan and on display within the Dunkeld Community Archive by kind permission of Alan Lawson. The fiddle is held by Blair Castle due to the close relationship between Niel Gow and the 2nd, 3rd and 4th Dukes of Atholl. It is on display within the Ballroom of the castle alongside his chair and his portrait painted by Sir Henry Raeburn.
Throughout his life Niel Gow composed at least eighty-seven songs, compiled mostly of strathspeys and reels. His sons also followed him along the musical route and created their own compositions. They collaborated with their father on several compositions and created a strong family tie to the fiddle players of Scotland. Nathaniel Gow became the most notable musician of Niel's children.  Robert Burns used several of Niel's tunes for song he had written. One of these songs is allegedly Red, Red Rose which is one of Burns' most popular compositions.
Pete Clark playing a Nathaniel and Niel Gow medley.
There are many stories about Niel Gow and his escapades, predominantly they record him as being a kind and humorous soul. The book Biographical Dictionary of Eminent Scotsmen  recounts multiple stories from the life of Niel Gow and how he interacted with his contemporaries. These stories focus primarily on his relationship with the Duke and Duchess of Atholl whom he seemed to be in close contact with for most of his professional life. The boundaries between their social classes did not seem to be an issue to the friends and they interacted quite happily as contemporaries. One such story notes that
The Duke and Duchess walked one day with Niel to Stanley Hill, in the neighborhood of Dunkeld, when his grace began pushing and struggling with him in a supportive humor until the later at last fairly tumbled down the 'brae'. The Duchess running to him expressed her hope that he was not hurt to which he answered
"Nae-thing to speak o'-  I was the mair idiot
To wrestle wi'sic a fule'"At which they both laughed heartily
The relaxed and humorous tone of the story above supports the claims that Niel Gow was a kind man who was well known for his sense of humour and lightheartedness.
Mr.W.H. Watt, on a tour of Scotland in 1798 with his friend Dr Garnet met Niel in Dunkeld. Mr.Watt was an artist and made a sketch of Niel which was considered to be a 'good likeness'. This can be seen within this exhibition.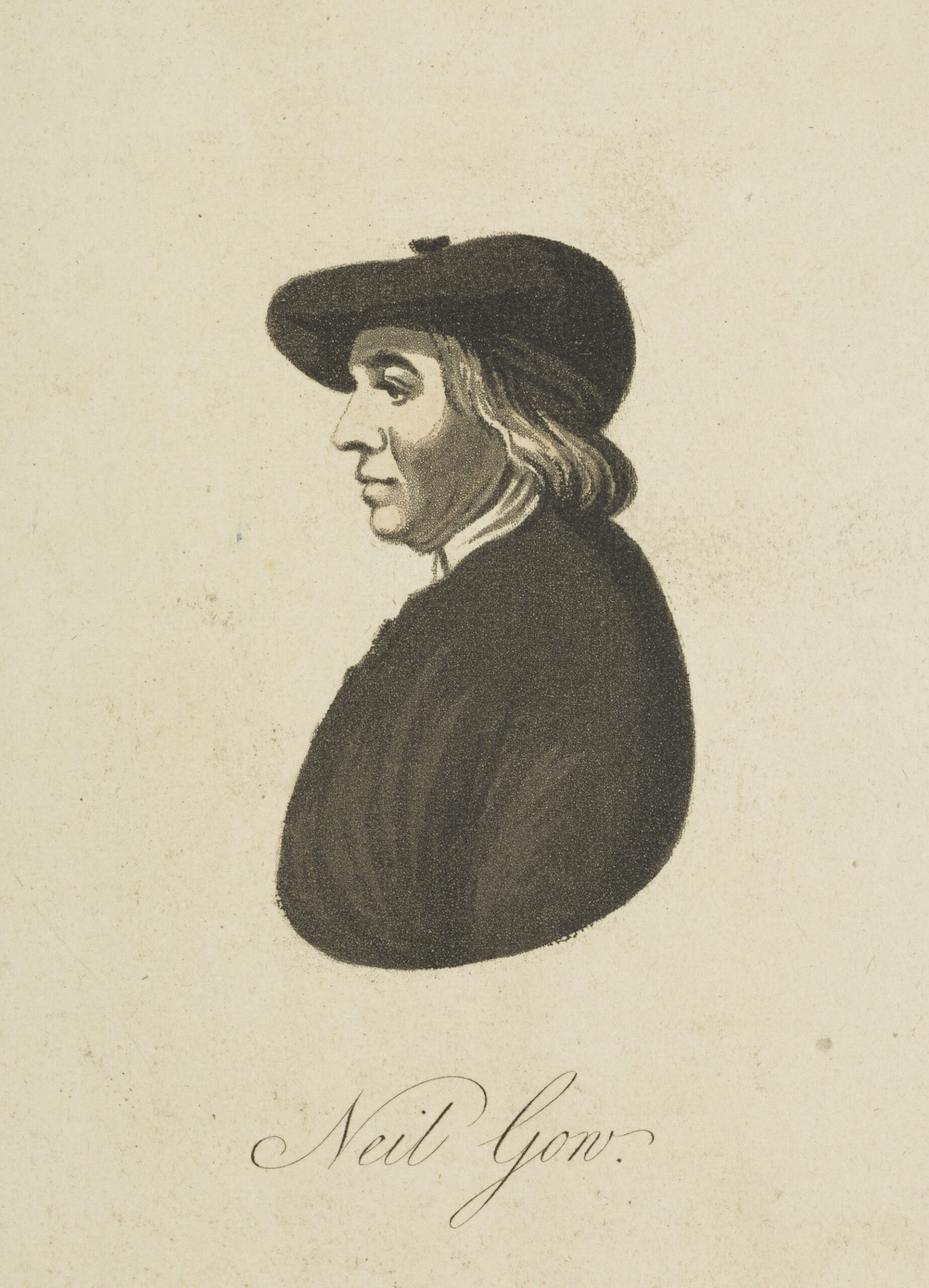 Niel Gow Sketch by Mr W.H. Watt. 1798,
Creative Commons CC by NC,
Available from National Galleries of Scotland.
Niel Gow died on 1st March 1807, three weeks before his 80th birthday. He was buried in Little Dunkeld Churchyard. In 1950 it was decided to move his headstone to the safety of the Chapter House Museum in Dunkeld Cathedral. A new headstone can be seen in Little Dunkeld Churchyard.  Niel Gow's last will and testament are available to view online in the National Records of Scotland. They provide good evidence that Niel Gow had a prosperous career as a musician despite humble beginnings due to the large amounts of money he was able to bequeath to his family on his death.  Sadly several of his children died before him, meaning that his estate was shared between the few remaining members of his family including some of his grandchildren.
The transcript for this document can be seen in full here.
Niel Gow's original headstone in Situ in Little Dunkeld churchyard before it's removal and preservation in the Cathedral in the Chapter House Museum.
This photograph shows several men transferring Niel Gow's headstone from Little Dunkeld Churchyard to the Chapter House Museum.
Niel Gow's legacy lives on through his music. It is still commonly played by musicians and recordings can be found in a variety of media. In honour of Niel Gow and his music, there is now an annual Niel Gow Festival held in Dunkeld. The festival information can be found here . There is a collection of local events and activities from Friday the 17th – Sunday the 19th of March 2023. Included in this Dunkeld Community archive is hosting an in-person exhibition about Niel Gow. There is also a statue which was created by the artist David Annand showing a life size Niel Gow. It is located near Inver where he spent most of his life.  Pete Clark is a local musician and expert on the life and activities of Niel Gow. He successfully raised the majority of the money for the statue after years of fund raising. Pete has also recorded a short documentary which is available to view alongside many recordings of Niel Gow's music.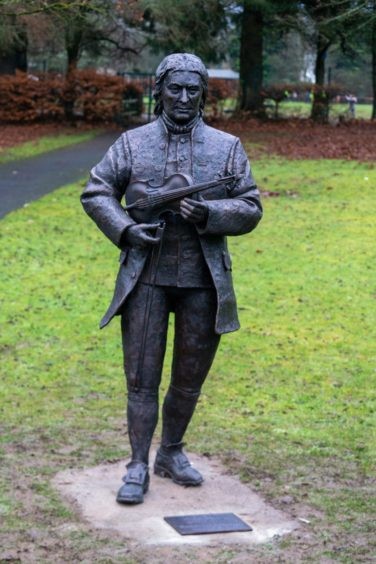 Photograph of Niel Gow Memorial Statue, Inver. CR0025659 Pic Kenny Smith, Kenny Smith Photography Information about the statues' story can be seen here .
Pete Clark Playing "Farewell to Whisky" by Niel Gow